Fans surprised at Sharapova's fitness post pregnancy as she is spotted just weeks after giving birth to Theodore
Former tennis star Maria Sharapova took to social media earlier this month to announce the birth of her first child, a baby boy named Theodore.
The 35-year-old Russian posted a picture of the new addition to the family along with herself and fiance Alexander Gilkes, a British entrepreneur. The couple started courting in 2018 and publicized their engagement by the end of 2020.
Theodore was born on July 1 and it didn't take long at all for the erstwhile World No. 1 to recuperate and step out following her son's birth. She recently posted a photograph of herself on her Instagram stories, where she can be seen sporting an athletic outfit and standing on rocky terrain. The tennis legend said that she trekked after a long period of time.
A few photos of the Russian also emerged as she walked the boulevards of New York City alongside her mother Yelena Sharapova. Fans on Twitter were surprised to see how fit Maria Sharapova appeared to be just a few days after giving birth to her first child. Apparently she has already started Pilates sessions!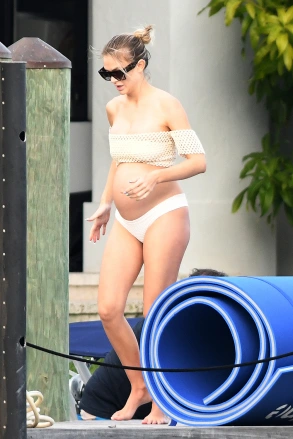 A 17-year-old Maria Sharapova shook up the world of women's tennis in 2004 when she won the Wimbledon Championships by beating Serena Williams in the title clash. The victory resulted in immediate fame for the Russian as she rose to stardom and grabbed the attention of the entire world, attracting profitable sponsorship deals.

Seventeen years later, Britain's Emma Raducanu found herself in a comparable situation. The youngster became the 1st player in the Open Era to win a Grand Slam as a qualifier. She overcame the challenge by another youngster, Leylah Fernandez, in the 2021 US Open finals at the age of 18.

However, Raducanu has not been able to continue her winning ways since then. She has been injry ridden on and off and fans have raised apprehensions about her multiple endorsement contracts disrupting her concentration.

Former Wimbledon champion Marion Bartoli has recommended Raducanu to seek advice from Sharapova. According to Bartoli, Sharapova handled the unexpected and sudden rise to fame very well and hence went on to win 4 more Majors.

Fans surprised at Sharapova's fitness post pregnancy, What to Sharapova & Raducannu have in common, Maria Sharapova, Emma Raducannu, Maria Sharapova Raucannu, Maria Sharapova Theodore, Maria Sharapova Mothr, Maria Sharapova Alexander Gilkes, Alexander Gilkes, Yelena Sharapova, Theodore Sharapova, 2004 Wimbledon Sharapova,

Tags: